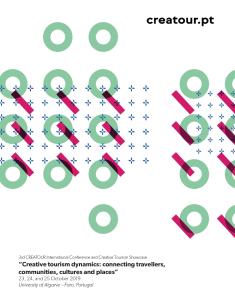 Creative tourism dynamics: connecting travellers, communities, cultures and places
The 3rd CREATOUR International Conference and Creative Tourism Showcase will take place between 23 and 25 October 2019 at the University of Algarve. 
The third International Conference of the CREATOUR Project is devoted to Creative Tourism Dynamics, with a particular focus on communicating, engaging, and connecting travellers with local communities and place through creative tourism. The CREATOUR approach to Creative Tourism highlights four elements: active participation, the learning and creation process, creative self-expression, and a link to the local community and sense of place. Creative Tourism creates a privileged relationship between tourists and residents, which derives from the immersion of both in local culture through the active participation in creative learning experiences. In this context, it is important to better understand how to identify and reach travellers, how to involve communities in the design and production of creative experiences, and to learn from initiatives being developed internationally.
The conference is organized within the project CREATOUR: Creative Tourism Destination Development in Small Cities and Rural Areas (Desenvolver Destinos de Turismo Criativo em Cidades de Pequena Dimensão e em Áreas Rurais) - (2016-2019)
Organization: The local conference organizer is CIEO (Centre for Spatial and Organizational Dynamics / Centro de Investigação sobre o Espaço e as Organizações), University of the Algarve.
Organization:
CREATOUR | CIEO - UAlgarve
From 23.10.2019 to 25.10.2019
University of Algarve – Faro, Portugal