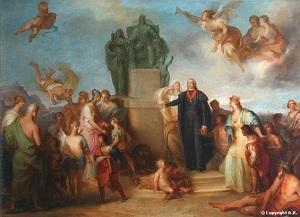 CALL FOR PAPERS l Police Science at the End of the Old Regime From theory to practice
This conference is aimed at studying the acceptance of modern police practices regarding public order. The most recent historiography on the police is focused on analysing acceptance and circulation of police knowledge and practices in Europe, abandoning traditional explanations almost exclusively based on national frameworks and focusing more on the organisation and operation of umbrella institutions. As a result of these new approaches, it is now known that the concept of police was based on spaces where it was implemented and on policemen's perception of their competences and methods for putting them into practice. Following this approach, this conference aimed at providing an idea of surveillance devices used as well as economic and social experiences implemented at the time. How did police sciences defend population and territorial management? Or rather, how did they propose to encourage economic development and demographic expansion? And what were their ideas of Public Happiness? How were similar ideas embraced?
The conference is organised into the following topics:
I – Ideological assumptions and approaches for action by police in Europe
II – Territorial and population control: development and use of knowledge
III – Intendencies and criminality: individuals and reclusion institutions
IV - General Police Intendency of the Court and State of Brazil; a different identity?
Invited spekers:
Vincent Milliot, Université de Caen
José Luís Cardoso, Instituto de Ciências Sociais da Universidade de Lisboa
José Subtil, Universidade Autónoma de Lisboa
Organising Committee: Prof. Laurinda Abreu (Évora University / CIDEHUS), Maria Luísa Gama (CIDEHUS) and Christelle de Monserrate (CIDEHUS)
PROVISIONAL CALENDAR

15th Octember 2015

Deadline for submitting proposals

30th October 2015

Reply regarding admission of proposals

15th November 2015

Publication of the programme

November 2015

Registration period

14th and 15th January January 2016

Conference Police Science at the End of the Old Regime: from theory to practice
For registration and submission of abstracts:
1 - Sign up in https://sge.uevora.pt (you will receive a confirmation email to finish your sign up)
2 - After login in https://sge.uevora.pt go to https://sge.uevora.pt/eventos/ver/140
3 - On the right side of the page choose "Register" and after that choose "Confirm Registration"
4 – (Optional, if you want submit an abstract) - On the right side of the page choose "Submit abstract" and upload a file. Proposals must include title and abstract (200-500 words), along with a brief CV.
5 - After registration choose the option "Confirm your registration"
6 - After you confirm your registration choose the option "Confirm payment", following the instructions on the registration site and upload the payment proof.
Registration fee:
Speakers – 30€
Speakers (students) – 25€
Participants without communication – 20€
Published in 03.09.2015