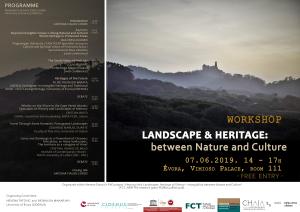 Landscape & Heritage: Between Nature and Culture
Decorrerá, no dia 07 de Junho de 2019, na Universidade de Évora, o Workshop dedicado ao tema "Landscape & Heritage: Between Nature and Culture". 
From arts and cultural geography to anthropology, landscape planning and history, landscape emerged as a powerful category in different areas of scientific inquiry. Amidst the scholarship's shift towards a re-thinking definition of heritage and pondering the emerging idea of intangible natural heritage, the workshop seeks to re - examine these changing historical concepts that embody dualism of nature and culture. Marrying theoretical approaches with practice, the discussion will explore the implications of the agency of power for both the understanding of heritage and humans' relationship with the environment. At the same time, it will look into the ways in which the study of landscape influences and informs heritage conservation today, and vice versa.
The event is organized within Nevena Tatovic's PhD project "Hearing Holy Landscapes: Heritage of Silence – Intangibility between Nature and Culture" in the framework of FCT_HERITAS doctoral programme (PD/BI/142867/2018), with a support of CIDEHUS - Interdisciplinary Center for History, Cultures and Societies and UNESCO Chair in Intangible Heritage and Traditional Know-How: Linking Heritage. 
PROGRAMME
Moderator: Antónia Fialho Conde - University of Évora (CIDEHUS)
14:00 – 14:15 
Introduction – ANTÓNIA FIALHO CONDE
14:15 – 14:40 
Keynote:
Beyond Intangible Values: Linking Natural and Cultural World Heritage in Protected Areas
(web conference)
BAS VERSCHUUREN – Wageningen University / IUCN WCPA Specialist Group on Cultural and Spiritual Values of Protected Areas (co-chair) / Sacred Natural Sites Initiative (co-founder)
14:40 – 15:00 
The Social Value of Heritage (web conference)
COLM MURRAY - The Heritage Council Ireland
15:00 – 15: 20 
Heritages of the Future
FILIPE THEMUDO BARATA – UNESCO Chairholder in Intangible Heritage and Traditional Know – How: Linking Heritage / University of Évora (CIDEHUS)
15:20 – 15:40   Debate
15:40 – 16:00 
Whales on the Shore in the Cape Verde Islands: Seascapes of History and Landscapes of Memory
CRISTINA BRITO - CHAM – Centre for the Humanities, NOVA FCSH, Lisbon
16:00 – 16:20 
Travel Through Some Romantic Portuguese Landscapes
EDUARDO MANUEL DUARTE – Faculty of Fine Arts, University of Lisbon
16:20 – 16:40 
Ceres and Demiurge in a Flowerbed of Chronos: One Place, So Many Landscapes.
The Territory as a Category of Time?
CRISTINA JOANAZ DE MELO - Institute of Contemporary History, NOVA University of Lisbon (IHC - UNL)
16:40 – 17:00  Debate
Closing Talk – ANTÓNIA FIALHO CONDE
Please consult the programme attached. 
Organization:
CIDEHUS - UÉvora | HERITAS - Estudos de Património | Cátedra UNESCO em Património Imaterial da UÉ
14:00 |
Palácio do Vimoso | Sala 111