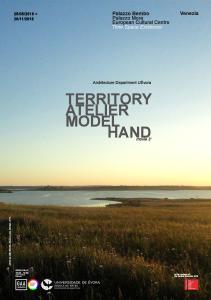 O Projeto vídeo "Territory Atelier Model Hand"
O Departamento de Arquitetura da Universidade de Évora participou no contexto da  16ª Edição da Bienal de Arquitetura de Veneza 2018 com o projeto Territory Atelier Model Hand" movie 3' coordenado por João Rocha (CIDEHUS/DAué), concepção e direcção deJorge Sá (CIDEHUS/DAué) e João Soares (CHAIA/DAué).

O projeto foca-se no significado de ensinar arquitectura em Évora, cidade Património Mundial da UNESCO e está em exibição no Palazzo Bembo em Veneza até 26 de novembro de 2018.
Neste evento, Time Space Existence, estão também patentes trabalhos de reconhecidos arquitectos e Universidades, como: RMIT+Zaha Hadid; Kengo Kuma& Associates; L35 Architects; SOM; MVRDV; Toshiko Mori; Moshe Safdie entre outros.
"Progetto, one of the words we often use. But what is the really meaning of this word? [M. Cacciari 06.58]. The necessity of an embodiment of progetto is thus pursued at our Design Studios, on both Master and PhD levels.
The act of travelling along the territory as a method to create an architectural memory and to find new themes that could give other meanings to the progetto. What is really important is to have a good pair of boots which can takes us wherever we want [D. Belo 1:18:19].
This timeless poetic of space finds also echoes in Carrilho da Graça´s words, I do an enormous effort to rationalize reality, but with the consciousness that is almost an impossible task, [JLCG 21.15].
To position an architectural reflection and critical discourse within this context is giving to progetto a form of ethical responsibility, a reevaluation of heritage and of landscape use and at the same time, to include its values in our contemporary thought."
Rocha, J., Soares, J. e Sá, J. (2018) - "Progetto as a theme" in Time Space Existence. Edited by GAA Foundation and the European Cultural Center. Published by the GAA Foundation, Venice. pp: 424-425.
Veja o vídeo aqui. 
Published in 11.07.2018