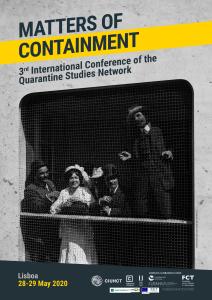 3rd International Conference of the Quarantine Studies Network
A terceira conferência internaciona da Quarantine Studies Network acontece a 28 e 29 de Maio, em Lisboa. A conferência tem como tema principal "MATTERS OF CONTAINMENT - Material approaches to the handling of threats in the modern world".
As conferências passadas da QSN em Malta e Mallorca exploraram a expansão do estudo clássico das quarentenas e cordões sanitários num campo temático interdisciplinar, onde as suas múltiplas dimensões - política, militar, social, económica e de saúde - foram sistematicamente trazidas para o primeiro plano. Nesta terceira conferência, pretende-se dar mais um passo nesta direcção, através da exploração das realidades materiais de contenção em qualquer lugar do mundo e, de preferência, para o período de 1750 até aos dias de hoje.
From 28.05.2020 to 29.05.2020