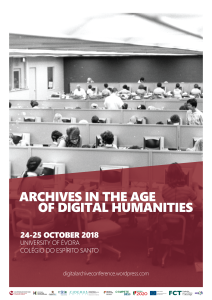 Archives in the Age of Digital Humanities
 A Conferência Internacional "Archives in the Age of Digital Humanities" decorrerá na Universidade de Évora, entre os dias 24 e 25 de Outubro de 2018.  
Uma parte cada vez mais significativa da memória documental actual está a ser digitalizada nos sistemas de Tecnologias de Informação (TIC) de empresas privadas e instituições públicas, em servidores conectados à rede global, assim como nos nossos computadores e dispositivos móveis. Ao mesmo tempo, os arquivos herdados do passado são submetidos a processos de conversão digital e tornam-se cada vez mais acessíveis através da Internet. Discutir a relação entre investigação histórica, fontes e meios digitais significa confrontar-se com uma dinâmica de acesso a informações em rápida mutação, rastreando algumas linhas de possíveis críticas das fontes digitais capazes de fornecer ao historiador, e não apenas, ferramentas de análise e interpretação essenciais para enfrentar as complexas estratificações tecnológicas, culturais e sociais da nova era digital.
A conferência desenvolver-se-á em torno dos seguintes eixos temáticos:
A digitalização dos arquivos de entidades públicas e privadas: limites, perspectivas, repercussões da revolução tecnológica sobre e para o estudo das ciências sociais e humanas;
Métodos e técnicas de digitalização e preservação digital: como digitalizar diferentes documentos e organizá-los em arquivos digitais; construção de arquivos e plataformas digitais; preservação, curadoria e obsolescência dos arquivos digitais;
O impacto da informação nascida em formato digital: reflexão sobre os arquivos de documentos que já nascem em formato digital; utilização das fontes nascidas em digital pelas diversas comunidades científicas e sociedade civil; as redes sociais como fontes para o estudo do tempo presente;
Uso público do arquivo digital: novas abordagens historiográficas sobre como o impacto dos arquivos digitais nas humanidades e ciências sociais; os usos dos arquivos digitais e as novas formas de fazer pesquisa; impacto dos arquivos digitais na academia e na sociedade civil; reflexões sobre a interpretação e manipulação de documentos digitais.
Para mais informações consulte o site do encontro, aqui. 
Organization:
CIDEHUS - UÉvora | IHC-NOVA FCSH | IHC-CEHFCi-UE |
From 24.10.2018 to 25.10.2018
09:00 |
Colégio do Espírito Santo da Universidade de Évora